Price,$/m
to 500 m

550 to 1000 m
from 1050 to 5000
m
from 5050 to 10000
m
Over 10,000 m
0,28
0,26
0,25
0,22
negotiation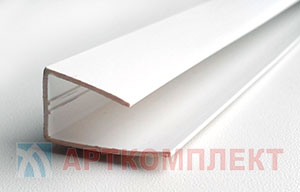 Company "Artkomplekt" produces starting P-reinforced PVC profile , which is used for mounting the slopes during the installation of plastic windows. Start P-profile provides adjoining sloping panel to the window frame plastic window.
Start P-profile is made of high quality PVC raw material with the addition of special additives that give it unique properties.
Entry U-PVC profile production company "Artkomplekt" is primarily power . With high mechanical strength and elasticity, it does not break during installation and does not lose its shape, which provides a quality installation with smooth seams sloping panel and the window frame.
Along with enhanced mechanical strength starting P-PVC profile has increased frost , which provides elasticity of the material at lower temperatures and allows to produce high-quality installation in the cold season.
In addition to the performance start U- PVC profile from "Artkomplekt" has special guide , allowing the holder with its screw to screw to the frame perfectly centered U-profile. Unlike products from other manufacturers , which has no such guide our starting P- profile allows you to significantly speed up the process of installation, while increasing the quality of work and reduce the rate of marriage. In the absence of the guide screw can be screwed off-center P-profile and his little hat can deform it , which leads to the replacement or screw , or if the marriage was not seen , leads to undesirable bulging starting P- sloping profile of the panel.
Produced by our company starter U-PVC profile has a pure white with even moderate gloss. Our experts tchatelno monitor the quality of products. Constant monitoring of the formulation allows the starting P-PVC profiles of the same color, shape and performance, regardless of party.
Sizes start P-PVC profile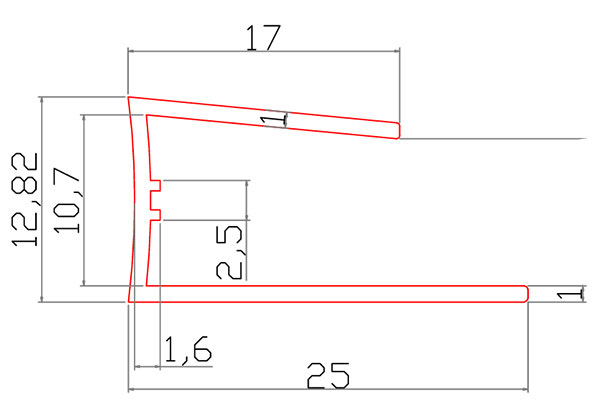 For more information about the characteristics of the order or trial batch starting U-PVC profile please contact our managers.