The price, $/meter
from 500 m
from 500
to 1000 m
from 1000
to 5000 m
from 5000
to 10000 m
over 10000 m
0,50
0.47
0.43
0.43
contractual
The basic function of PVC of a baguette is maintenance of fastening of a cloth of a tension ceiling, and deduction of its tension. The insert hides the backlashes formed between a ceiling and a wall. A harpoon – a profile of average rigidity which is welded on all perimeter of a cloth of a tension ceiling. The given kind of fastening gives the chance to mount and dismantle with ease a tension ceiling at repair of premises.
The baguette of PVC offered by company Artcomplekt, differs high quality, a practicality and the raised durability. Mounting a tension ceiling with our baguette, you can be assured that it won't break at bending, will easily give in cutting and to drilling. Besides, on a curvilinear site the baguette isn't required to be sawn. The baguette of PVC ordered in us, it is possible to use in premises of any area without fear that it is deformed at installation.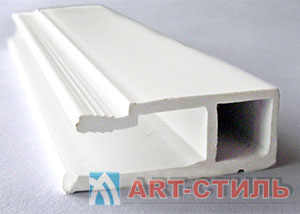 The design of a baguette of PVC provides function "pressure indemnifications". It provides necessary ventilation thanks to what humidity of air in interceiling spaces decreases.
Invisible baguette of PVC - one of the most widespread. It can be used at cloth fastening to a wall and any vertical surface, and he will repeat any roughnesses, and on curvilinear sites there will be no visible steps.
We want to offer you Practical, Flexible, Strong PVC a baguette!
Advantages of PVC of a baguette:
Doesn't break at numerous bendings
Doesn't need a cutting on curvilinear sites
It is convenient at transportation (in the car, in the lift etc.)
Easy drilling of apertures for fastening
Easy cutting;
The order of the punched baguette is possible
Doesn't spoil a wall during installation
The given kind of PVC of a baguette use on any areas - it isn't deformed at installation!
For reception of more exact information on goods presence in a warehouse, and also at the prices address to our managers!